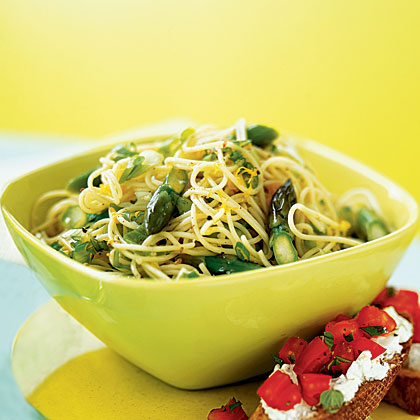 Asparagus Angel Hair Pasta Recipes
PREP 10 mins
COOK 20 mins
READY IN 30 mins
Ingredients
Original recipe makes 8 servings
1 (16 ounce) package angel hair pasta
1/4 cup extra virgin olive oil, divided
2 cloves garlic, minced
1 pound fresh asparagus spears, trimmed and chopped
2 cups grape tomatoes, halved
1 (14.5 ounce) can chicken broth
1 teaspoon dried dill weed
freshly ground black pepper to taste
2 avocados - peeled, pitted, and mashed
1/2 lime, juiced
1/2 teaspoon garlic powder
1 cup shredded queso asadero (white Mexican cheese)
Directions
Bring a large pot of lightly salted water to a boil. Add angel hair pasta, cook for 5 to 6 minutes, until al dente; drain and toss with 1 tablespoon of olive oil to prevent stickiness.,
Heat the remaining 3 tablespoons olive oil in a skillet over medium heat, and cook the garlic for 1 to 2 minutes. Add the asparagus and tomatoes, stirring to coat. Pour in the broth, and continue cooking uncovered 10 minutes, or until the asparagus is tender, but still bright green.
Place the pasta in a large bowl, and toss with the asparagus and tomato mixture. Season with dill and pepper. In a separate bowl, mix the avocados, lime juice, and garlic powder together until blended.
Serve pasta with a dollop of the avocado mixture, and top with shredded cheese.