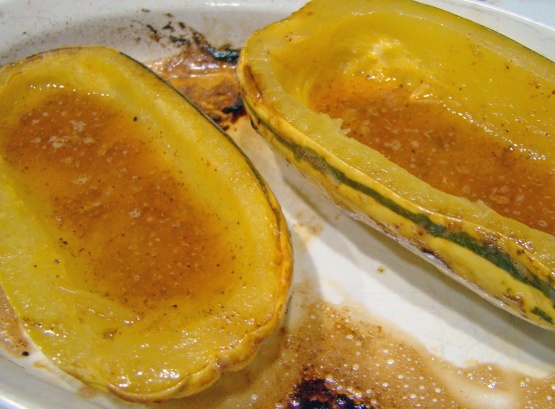 Baked Delicata Squash with Lime Butter Recipes
PREP 10 mins
COOK 30 mins
READY IN 40 mins
Ingredients
Original recipe makes 4 servings
2 delicata squash, halved and seeded
3 tablespoons butter, softened
1 tablespoon fresh lime juice
1 teaspoon chili powder, or to taste
1/2 teaspoon lime zest (optional)
salt and ground black pepper to taste
Directions
Preheat oven to 350 degrees F (175 degrees C). Place the squash cut side down into a baking dish. Pour water into the dish to about 1/4 inch deep.
Bake in preheated oven until the squash pierces easily with a fork, about 30 minutes.
Meanwhile, blend the butter with the lime juice and chili powder in a small bowl. Mix in the lime zest, if desired. Season to taste with salt and pepper. Spoon the butter mixture into the cooked squash, and serve immediately.