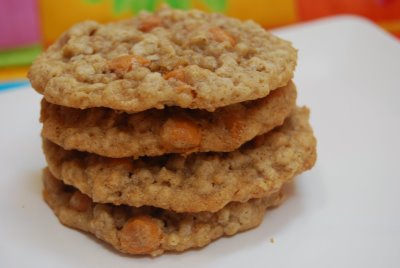 Butterscotch Oatmeal Cookies I Recipes
PREP 15 mins
COOK 10 mins
READY IN 40 mins
Ingredients
Original recipe makes 3 dozen
3/4 cup butter flavored shortening
1/2 cup white sugar
1 cup packed brown sugar
1 egg
1 teaspoon vanilla extract
1 cup all-purpose flour
1 teaspoon baking soda
3 cups rolled oats
1 cup semisweet chocolate chips
1 cup butterscotch chips
Directions
Preheat oven to 375 degrees F (190 degrees C).
In a large bowl, cream together shortening, white sugar, and brown sugar until smooth. Beat in egg, then stir in vanilla. Combine flour and baking soda, and mix into the batter. Mix in oats and chocolate and butterscotch chips. Drop dough by teaspoonfuls onto ungreased cookie sheets.
Bake for 9 to 12 minutes in the preheated oven, or until the edges are toasted. Cool on wire racks.