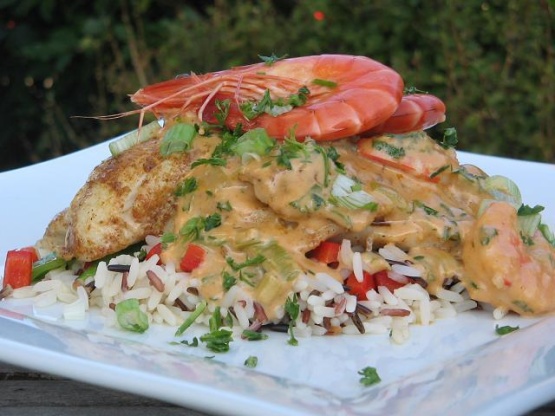 Cajun Catfish Supreme Recipes
PREP 30 mins
COOK 45 mins
READY IN 2 hrs 15 mins
Ingredients
Original recipe makes 6 servings
1 1/2 pounds catfish fillets, cut in strips
2 teaspoons Cajun-style blackened seasoning
4 tablespoons mayonnaise
1/2 cup butter
1 cup sliced fresh mushrooms
1/2 cup chopped fresh parsley
1 cup sliced green onions
1 pound small, peeled shrimp
2 (10.75 ounce) cans condensed cream of shrimp soup
Directions
Sprinkle catfish strips with blackened fish seasoning. Spread catfish with mayonnaise. Place in a shallow dish, cover, and refrigerate for 1 hour.
In a large skillet, heat 4 tablespoons butter until it begins to sizzle. Sear the fish strips until golden, turning once. Transfer to a 9x13 inch baking dish, and arrange fish in a single layer.
In the same skillet, heat remaining 4 tablespoons butter over medium heat. Cook and stir mushrooms in butter until golden. Stir in parsley, green onions, and shrimp. Reduce heat to low, and cook until shrimp are pink and tender. Stir in cream of shrimp soup, and blend well. Ladle soup mixture over fish in baking dish.
Bake at 375 degrees F (190 degrees C) for 30 minutes.