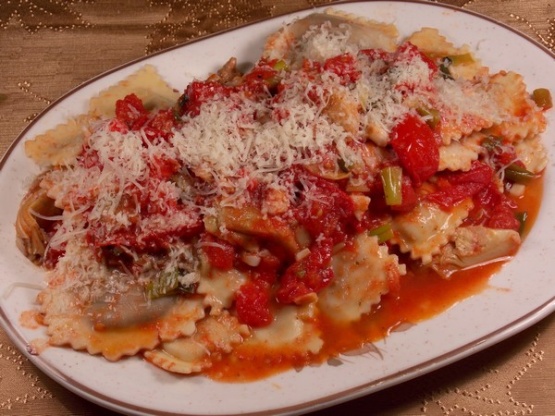 Cheese Ravioli with Fresh Tomato and Artichoke Sauce Recipes
PREP20 mins
COOK5 mins
READY IN25 mins
Ingredients
Original recipe makes 4 - 6 servings
2 (9 ounce) packages fresh cheese ravioli
1 tablespoon olive oil
1 teaspoon olive oil
1 pound roma tomatoes - peeled, seeded and chopped
1 (6.5 ounce) jar marinated artichoke hearts
1/2 cup chopped green onions
3 cloves crushed garlic
1/2 teaspoon salt
1/4 teaspoon freshly ground black pepper
2 tablespoons grated Parmesan cheese
Directions
Cook ravioli according to package directions.
While the pasta is cooking, prepare the sauce. In a large nonstick skillet, heat 1 tablespoon oil over a medium high heat. Add tomatoes, artichokes, scallions, garlic, and salt and pepper. Cook 2 to 3 minutes, stirring occasionally, until vegetables are warmed through. Remove from heat.
Drain pasta well. Transfer to a large bowl, and toss with 1 teaspoon oil. Add half of the sauce to the ravioli; toss gently, but thoroughly to mix. Transfer ravioli to a large serving platter. Pour remaining vegetable sauce over ravioli. Garnish with Parmesan cheese.