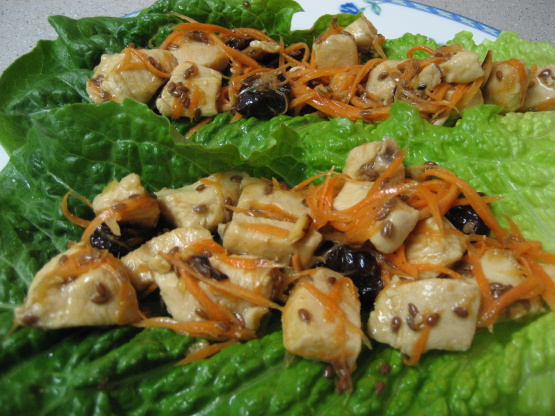 Cherry Chicken Lettuce Wraps Recipes
PREP 15 mins
COOK 10 mins
READY IN 25 mins
Ingredients
Original recipe makes 6 servings
2 tablespoons canola oil, divided
1 1/4 pounds skinless, boneless chicken breast halves, cut into bite-size pieces
1 tablespoon minced fresh ginger root
2 tablespoons rice vinegar
2 tablespoons teriyaki sauce
1 tablespoon honey
1 pound dark sweet cherries, pitted and halved
1 1/2 cups shredded carrots
1/2 cup chopped green onion
1/3 cup toasted and sliced almonds
12 lettuce leaves
Directions
Heat 1 tablespoon oil in a large skillet over medium-high heat. Saute chicken and ginger in hot oil until chicken is cooked through, 7 to 10 minutes. Set aside.
Whisk vinegar, teriyaki sauce, remaining 1 tablespoon oil, and honey together in a bowl. Add chicken mixture, cherries, carrots, green onion, and almonds; toss to combine.
Spoon 1/12 the chicken/cherry mixture onto the center of each lettuce leaf; roll leaf around filling and serve.