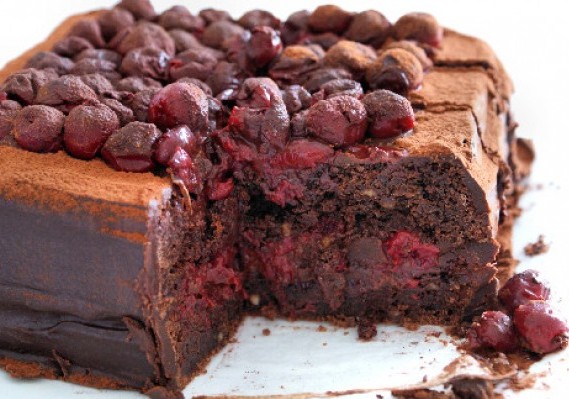 Cherry Chocolate Cake Recipes
Ingredients
Original recipe makes 1 -9x13 inch cake
1/2 cup butter
1 1/2 cups white sugar
2 eggs
1 teaspoon almond extract
1/2 cup unsweetened cocoa powder
1 3/4 cups cake flour
1 1/4 teaspoons baking soda
1 teaspoon salt
1 (21 ounce) can cherry pie filling
Directions
Preheat oven to 350 degrees F (175 degrees C). Lightly grease and flour one 9x13 inch baking pan.
Cream the butter with sugar until light and fluffy. Mix in the eggs and almond extract and beat well. Add the cocoa powder and mix until well combined.
By hand, stir the cake flour, baking soda and salt together. Add flour mixture to the butter mixture and mix until just combined. Stir in the cherry pie filling. Pour the batter into the prepared pan.
Bake at 350 degrees F (175 degrees C) for 30 to 35 minutes or until a toothpick inserted near the middle comes out clean. Cool and frost with Chocolate Buttercream.