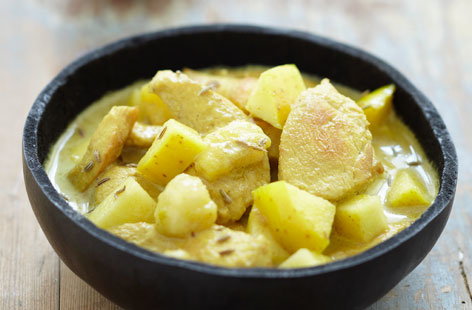 Chicken and Apple Curry Recipes
PREP 20 mins
COOK 55 mins
READY IN 1 hr 15 mins
Ingredients
Original recipe makes 6 to 8 servings
3 tablespoons butter
2 small onion, chopped
2 apples - peeled, cored and finely chopped
3 tablespoons all-purpose flour
1 tablespoon curry powder
8 skinless, boneless chicken breasts
1 cup hot chicken broth
1 cup milk
salt and pepper to taste
Directions
Preheat oven to 350 degrees F (175 degrees C).
Saute apple and onion in butter or margarine until tender. Add curry powder and saute 1 minute more. Add flour and continue to cook 1 minute longer. Add stock or broth and milk; stir well.
Salt and pepper chicken breasts to taste and lay in a single layer in a 9x13 inch (or larger) baking dish. Pour sauce mixture over chicken breasts and bake in preheated oven for 45 to 50 minutes, until chicken is done.