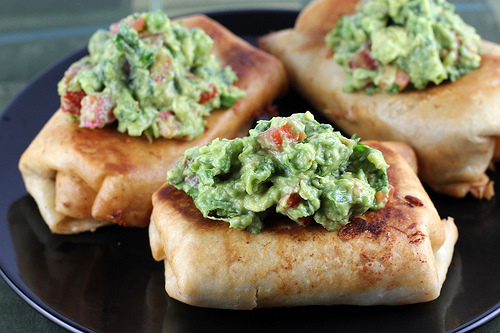 Chicken Chimichangas Recipes
PREP 20 mins
COOK 25 mins
READY IN 45 mins
Ingredients
Original recipe makes 6 servingsChange Servings
1 1/2 cups chicken broth
1 cup uncooked long-grain rice
1/2 cup red enchilada sauce
1 1/2 onion, diced, divided
6 (12 inch) flour tortillas
4 cups diced cooked chicken breast, divided
1 pound Monterey Jack cheese, shredded, divided
1 (6 ounce) can sliced black olives
4 cups refried beans, divided
1/4 cup vegetable oil
TOPPING
3 avocados, peeled and pitted
1/2 cup finely chopped cilantro
2 tablespoons lemon juice
3 green onions, diced
1/4 cup finely chopped jalapeno chile peppers
1 tomato, diced
2 cups shredded lettuce
1 cup sour cream
2 cups shredded Cheddar cheese
Directions
In a medium saucepan combine the broth, rice, sauce, and 1 diced onion. Mix and bring to a boil; reduce heat to low and let simmer for about 20 minutes, or until rice is tender.
Meanwhile, heat tortillas in a large skillet (so that they are soft enough to fold).
When rice mixture is ready, spoon equal amounts of the following onto each tortilla: Chicken, shredded Jack cheese, diced onion, olives, rice mixture and beans. Roll tortillas, tucking in sides to prevent filling from spilling over.
Heat oil in a large skillet and fry the filled tortillas, turning, until browned on all sides. Drain on paper towels.
To Serve: In a medium bowl combine the avocados, cilantro, lemon juice, green onions, chile peppers and tomatoes. Mash together. Place shredded lettuce on a platter, topped with chimichangas, avocado mix, sour cream and shredded Cheddar cheese.