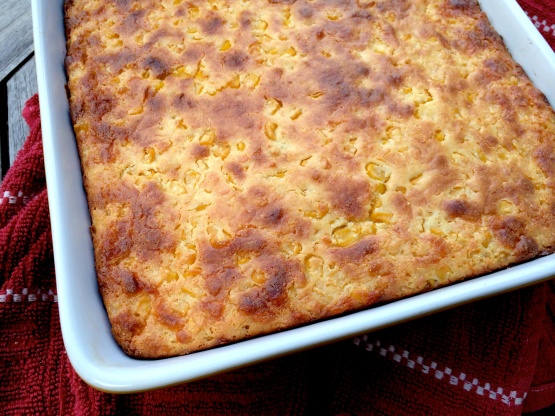 Corn Pudding V Recipes
PREP 15 mins
COOK 45 mins
READY IN 1 hr
Ingredients
Original recipe makes 12 servings
1 (15.25 ounce) can whole kernel corn, drained
1 (15 ounce) can cream style corn
1/2 cup margarine, softened
1 cup sour cream
1 (8.5 ounce) package dry cornbread mix
Directions
Preheat oven to 350 degrees F (175 degrees C). Lightly grease a 2 quart casserole dish.
In a medium bowl, mix together the whole kernel corn, cream style corn, margarine, sour cream, and corn bread mix. Pour into the prepared casserole dish.
Bake for 45 minutes in the preheated oven, or until a knife inserted in the center comes out clean.