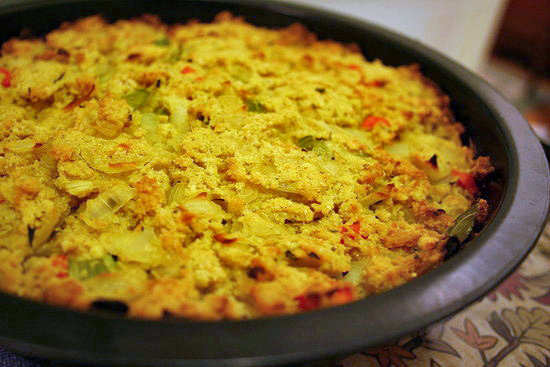 Cornbread Stuffing Southern Style Recipes
PREP 10 mins
COOK 20 mins
READY IN 30 mins
Ingredients
Original recipe makes 10 servings
2 (8.5 ounce) packages dry corn muffin mix
1 (8 ounce) can cream-style corn
2 eggs, beaten
1/2 cup plain yogurt
1/4 cup milk
1/2 cup butter
1 onion, finely chopped
2 celery, finely chopped
1 green bell pepper, finely chopped
4 cloves garlic, minced
2 teaspoons dried thyme
1 teaspoon dried basil
2 teaspoons dried oregano
2 teaspoons salt, or to taste
1 teaspoon ground black pepper
1/4 teaspoon cayenne pepper
3 cups chicken broth
Directions
Preheat oven to 400 degrees F (200 degrees C). Lightly grease a 9x13 inch baking dish.
In a medium bowl combine muffin mix, corn, eggs, yogurt and milk; stir just until moistened. Pour into prepared pan.
Bake in preheated oven for 20 minutes, or until golden brown.
Meanwhile, in a large saucepan over medium heat, melt butter and saute onion, celery, green pepper and garlic. When onions are tender stir in thyme, basil, oregano, salt, pepper, cayenne and broth. Bring to a boil and then remove from heat.
Crumble the cornbread and stir into broth mixture; mix well. Add more broth or more bread, as necessary, to achieve desired consistency.