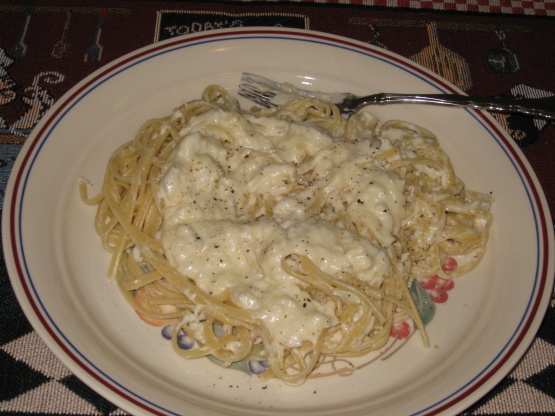 Crab Alfredo Recipes
PREP 10 mins
COOK 25 mins
READY IN 35 mins
Ingredients
Original recipe makes 4 servings
8 ounces dried fettucine
3 tablespoons butter
2 cloves garlic, minced
3 tablespoons all-purpose flour
salt and black pepper to taste
1/2 teaspoon cayenne pepper
2 cups half-and-half
1 (4 ounce) package cream cheese, softened
1/2 cup grated Parmesan cheese
8 ounces crabmeat, flaked
Directions
Bring a large pot of lightly salted water to a boil. Add pasta and cook for 8 to 10 minutes or until al dente; drain. Keep warm and covered.
Meanwhile, melt the butter in a large saucepan over medium heat. Add the minced garlic and cook until garlic releases its aroma, about 2 minutes, being careful not to let the garlic brown. Stir in the flour, salt, pepper, and cayenne pepper. Reduce heat, and cook, stirring constantly for about 2 minutes. Add the half-and-half and stir over medium heat until slightly thickened, about 3 minutes.
Add the cream cheese and Parmesan cheese to the sauce and stir until cheeses melt and mixture is smooth. Mix in the crabmeat and continue cooking until crabmeat is heated through, about 3 minutes.
Divide the fettucine between 2 plates or bowls and top with the crab sauce.