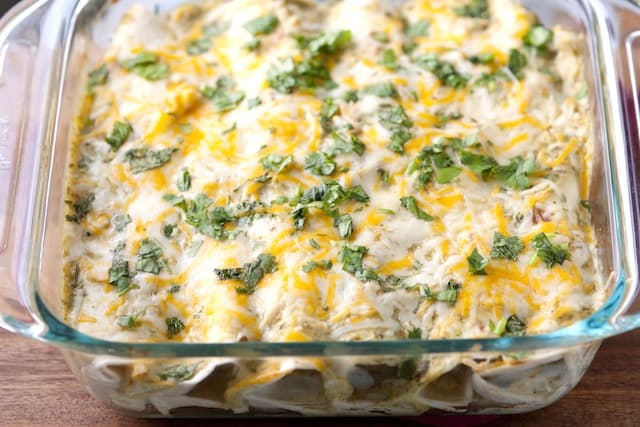 Creamy Chicken Enchiladas Verde Recipes
PREP 15 mins
READY IN 35 mins
Ingredients
Original recipe makes 4 servings
1 cup BREAKSTONE'S or KNUDSEN Sour Cream
1 cup tomatillo salsa
1 small onion, chopped
2 cloves garlic, minced
2 teaspoons oil
3 cups shredded cooked chicken breasts
1 (4 ounce) can chopped green chiles, drained
1 1/2 cups KRAFT Mexican Style Shredded Four Cheese with a Touch of PHILADELPHIA
8 (6 inch) flour tortillas
Directions
Heat oven to 350 degrees F.
Mix sour cream and salsa until well blended. Cook and stir onions and garlic in hot oil in large skillet on medium heat 4 to 5 min. or until vegetables are crisp-tender. Stir in chicken, 1 cup sour cream mixture, chiles and 1/2 cup cheese.
Spoon about 1/3 cup chicken mixture down center of each tortilla; roll up. Place, seam-sides down, in 13x9-inch baking dish sprayed with cooking spray. Top with remaining tomatillo sauce and cheese. Cover.
Bake 15 to 20 min. or until heated through.