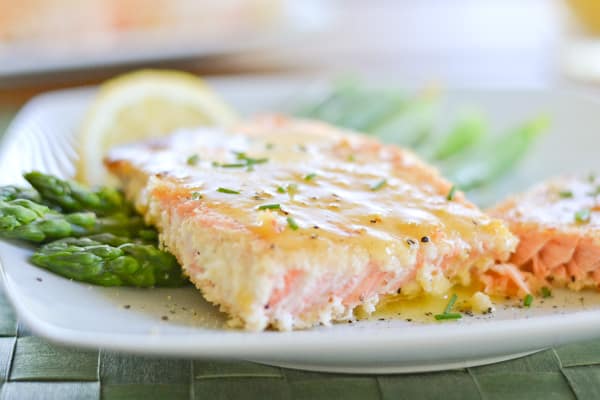 Crusted Salmon with Honey-Mustard Sauce Recipes
PREP 15 mins
COOK 15 mins
READY IN 40 mins
Ingredients
Original recipe makes 4 fillets
1 (1.5 pound) skinless center-cut salmon fillet, cut into 4 pieces
1 cup milk
1/4 cup fine bread crumbs
2 tablespoons grated Parmesan cheese
1 egg
1/4 cup butter, melted
1 tablespoon prepared yellow mustard
1 tablespoon honey
Directions
Preheat an oven to 375 degrees F (190 degrees C). Prepare a baking sheet with cooking spray.
Place the salmon fillets in a baking dish; pour the milk over the fillets. Allow the salmon to soak in the milk 10 to 15 minutes.
Stir the bread crumbs and Parmesan cheese together in a wide, deep bowl. Beat the egg in a separate bowl until frothy. Remove the salmon fillets from the milk; shake the excess milk off the fish. Dip each fillet into the beaten egg and then gently press into the bread crumb mixture to coat; gently shake to remove the excess.
Bake in the preheated oven, turning once, until the salmon flakes easily with a fork, about 15 minutes.
While the salmon bakes, stir the butter, mustard, and honey together in a bowl; drizzle over the baked salmon to serve.