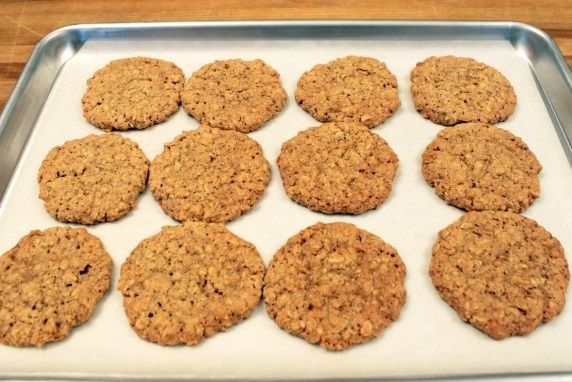 Dad's Cookies Recipes
PREP 18 mins
COOK 12 mins
READY IN 30 mins
Ingredients
Original recipe makes 3 dozen
1 1/2 cups all-purpose flour
1 teaspoon baking soda
3/4 teaspoon salt
1 cup white sugar
1 cup brown sugar
1 1/2 cups rolled oats
1/2 cup flaked coconut
3/4 cup vegetable oil
2 eggs
1 teaspoon vanilla extract
Directions
Preheat oven to 350 degrees F (175 degrees C). Grease cookie sheets.
In a large bowl, stir together the flour, baking soda, salt, white sugar, brown sugar, oats and coconut. Make a well in the center and pour in the oil, eggs and vanilla. Mix well using your hands or a wooden spoon. Roll the dough into walnut sized balls and place 2 inches apart onto the prepared cookie sheets. Flatten slightly with a fork.
Bake for 10 to 12 minutes in the preheated oven, cookies should be a very light brown and chewy - not crisp. Cool for a couple of minutes on the baking sheets before removing to wire racks to cool completely.