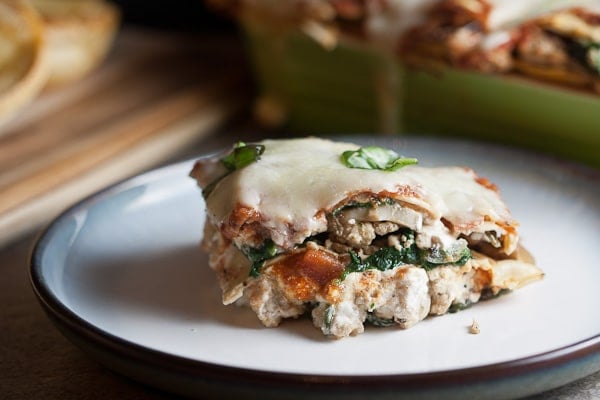 Delicious Spinach and Turkey Lasagna Recipes
PREP 20 mins
COOK 35 mins
READY IN 55 mins
Ingredients
Original recipe makes 8 servings
9 whole-wheat lasagna noodles
1 teaspoon olive oil
1/2 cup chopped onion
1 pound ground turkey breast
3 cups tomato sauce
1/2 cup sliced fresh mushrooms
3 tablespoons Italian seasoning
1/4 teaspoon ground black pepper
1/4 teaspoon garlic powder
6 cups chopped fresh spinach
2 cups fat-free ricotta cheese
1/4 teaspoon ground nutmeg
2 cups shredded mozzarella cheese
Directions
Preheat an oven to 375 degrees F (190 degrees C).
Bring a large pot of lightly salted water to a boil. Cook lasagna noodles in boiling water for 8 to 10 minutes. Drain noodles, and rinse with cold water.
Heat the olive oil in a skillet over medium heat. Stir in the onion; cook and stir until the onion has softened and turned translucent, about 2 minutes. Add ground turkey and cook 5 to 7 minutes more, stirring to break up any large chunks of meat. Stir in tomato sauce, mushrooms, Italian seasoning, black pepper, and garlic powder. Simmer for 2 minutes and season to taste.
Combine spinach, ricotta, and nutmeg in a large bowl.
To assemble, arrange 3 noodles lengthwise in the bottom of a greased 9x13 inch baking dish. Spread with 1/3 the ricotta mixture, 1/3 of the turkey mixture, and 1/3 of the mozzarella. Repeat layers, ending with remaining mozzarella. Bake in preheated oven for 25 minutes. Cool for 5 minutes before serving.