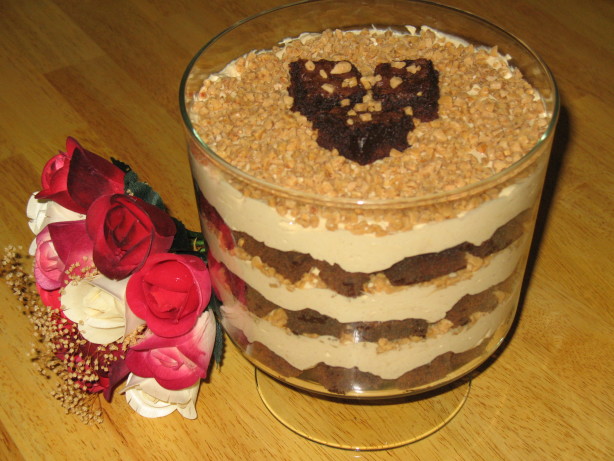 Double Chocolate Mocha Trifle Recipes
PREP 10 mins
COOK 35 mins
READY IN 1 hr 15 mins
Ingredients
Original recipe makes 15 servings
1 (19.8 ounce) package brownie mix
1 3/4 cups cold milk
2 (3.3 ounce) packages instant white chocolate pudding mix
4 teaspoons instant coffee granules
2 tablespoons warm water
2 cups frozen whipped topping, thawed
3 (1.4 ounce) bars chocolate covered toffee bars, chopped
Directions
Prepare brownies according to package directions. Bake and cool completely. Cut into 1 inch cubes.
In a medium bowl, whisk together milk and pudding mix until mixture begins to thicken. Dissolve coffee granules in water and stir into pudding mixture. Fold in whipped topping.
In a glass serving bowl, layer one-third of brownie cubes, one-third of pudding mixture and one-third of candy. Repeat layering until all ingredients are used. Chill 30 minutes in refrigerator before serving.