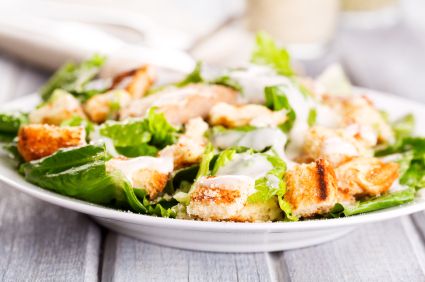 Easy and Fast Cajun Chicken Caesar Salad Recipes
PREP 15 mins
COOK 35 mins
READY IN 50 mins
Ingredients
Original recipe makes 4 servings
1/4 pound bacon
4 skinless, boneless chicken breast halves - cut into strips
1 teaspoon Cajun seasoning
1 tablespoon light olive oil
1 head romaine lettuce- rinsed, dried and chopped
1/2 cup Caesar salad dressing
1/3 cup grated Parmesan cheese
Directions
Place bacon in a large, deep skillet. Cook over medium high heat until evenly brown. Crumble and set aside.
In a preheated skillet, add the chicken, seasoning mix and oil. Cook until chicken is golden brown. Remove from heat and set aside.
In a salad bowl, combine Romaine, enough salad dressing to coat, Parmesan cheese and bacon. Toss and place on individual salad plates. Top with the sliced chicken and serve.