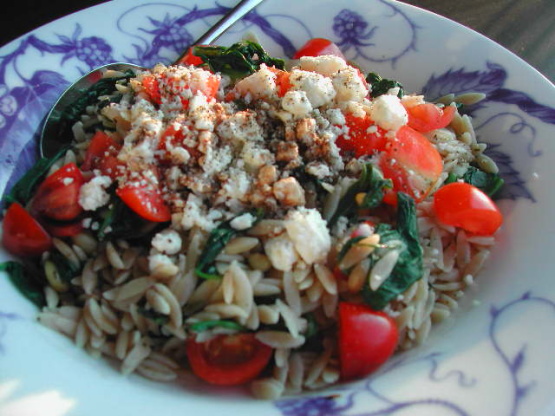 Elegant Orzo with Wilted Spinach and Pine Nuts Recipes
PREP 15 mins
COOK 15 mins
READY IN 30 mins
Ingredients
Original recipe makes 8 servings
1 (16 ounce) package uncooked orzo
1/2 cup olive oil
2 tablespoons butter
1/2 teaspoon minced garlic
1/2 teaspoon dried basil
1/2 teaspoon crushed red pepper flakes
1 cup pine nuts
1 (10 ounce) bag baby spinach
1/8 cup balsamic vinegar
1 (8 ounce) package crumbled feta cheese
1/2 fresh tomato, chopped
salt to taste
Directions
Bring a large pot of lightly salted water to a boil. Add pasta and cook for 8 to 10 minutes. (Firm or slightly undercooked orzo works best for this dish.) Drain, transfer to a mixing bowl, and set aside.
Heat olive oil and butter in a large skillet over medium high heat, stirring to blend. Stir in garlic, basil, and red pepper flakes, and reduce heat to medium. Stir in pine nuts and cook until lightly browned. Add spinach, cover, and cook on low heat for 5 minutes, or until spinach is wilted.
Toss spinach mixture with orzo pasta. Portion onto serving plates with a drizzle of balsamic vinegar and a sprinkling of crumbled feta cheese and chopped tomatoes. Allow guests to adjust seasoning with salt, as needed. Enjoy!