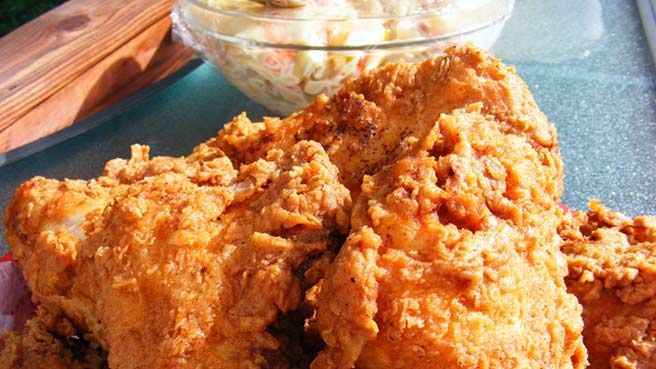 Firecracker Fried Chicken Drumsticks Recipes
PREP 20 mins
COOK 30 mins
READY IN 1 hr 50 mins
Ingredients
Original recipe makes 4 servings
8 chicken drumsticks
1/4 cup hot pepper sauce
1/3 cup all-purpose flour
2 tablespoons yellow cornmeal
1/2 teaspoon salt
3 cups vegetable oil for frying
Directions
Remove skin from chicken and place in a resealable plastic bag. Pour sauce over chicken, seal bag, and refrigerate to marinate for at least 1 hour, up to 24 hours. The longer the chicken marinates, the spicier it will be.
Heat oil in a deep-fryer or large skillet to 350 degrees F (175 degrees C).
Combine the flour, cornmeal, and salt in another resealable plastic bag. Add the drumsticks, seal bag, and shake to coat.
Fry the chicken, uncovered, for 25 to 30 minutes or until juices run clear. Turn occasionally to brown evenly.