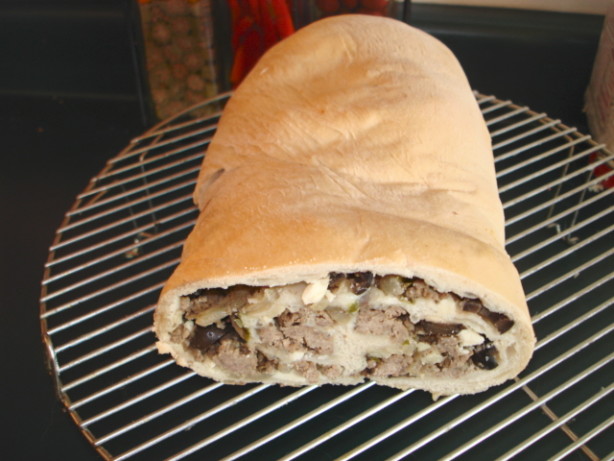 Gyroll Recipes
PREP 25 mins
COOK 35 mins
READY IN 1 hr
Ingredients
Original recipe makes 4 stuffed rolls
1 tablespoon olive oil
1 pound ground lamb
6 cloves garlic, crushed
1 large onion, sliced
1 tablespoon dried oregano
2/3 teaspoon ground cumin
2 teaspoons salt
2 teaspoons freshly ground black pepper
1 dash hot pepper sauce
2/3 cup chopped fresh parsley
1 pound pizza crust dough
6 ounces feta cheese
1/2 zucchini, diced
8 ounces chopped black olives
1/2 teaspoon garlic powder
Directions
Preheat oven to 450 degrees F (230 degrees C).
Heat oil in a large skillet over medium-high heat. Brown meat with garlic, onion, oregano, cumin, salt, pepper and hot pepper sauce. When meat is almost done, add parsley and cook until the parsley wilts. Remove mixture from heat and allow to cool.
Roll pizza dough out into a rectangle (about 18 inches by 12 inches), with the long side laid out left-to-right in front of you. Spread out feta cheese, zucchini and black olives evenly over the dough, leaving 3 inches from the edges of the crust uncovered. Spread the cooled meat mixture over the top, still leaving edges of dough uncovered.
Starting with the edge closest to you, roll up the whole thing until it is all rolled up. You can do this by using the uncovered edge of dough at the end as a 'strip' to stick to the roll and seal it, making sure both ends are pressed down and sealed. Sprinkle with garlic powder and bake in the preheated oven for 5 minutes. Then, reduce heat to 350 degrees F (175 degrees C) and bake for about 30 minutes, or until golden brown.