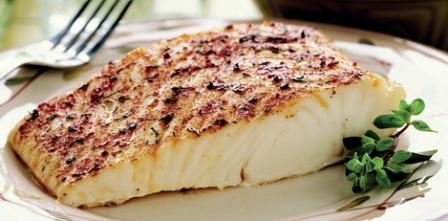 Halibut Supreme Recipes
PREP 15 mins
COOK 25 mins
READY IN 40 mins
Ingredients
Original recipe makes 6 servings
1 cup shredded Cheddar cheese
1/2 cup mayonnaise
1/2 cup sour cream
2 tablespoons all-purpose flour
1 1/2 teaspoons lemon juice
1 tablespoon diced onion
1/8 teaspoon ground cayenne pepper
2 pounds halibut steaks
Directions
Preheat oven to 425 degrees F (220 degrees C). Lightly grease a medium baking dish.
In a bowl, mix the Cheddar cheese, mayonnaise, sour cream, flour, lemon juice, onion, and cayenne pepper.
Arrange the halibut steaks in the prepared baking dish, and cover with the Cheddar cheese mixture.
Bake 10 minutes in the preheated oven. Reduce heat to 350 degrees F (175 degrees C), and continue baking 15 minutes, or until fish is easily flaked with a fork.