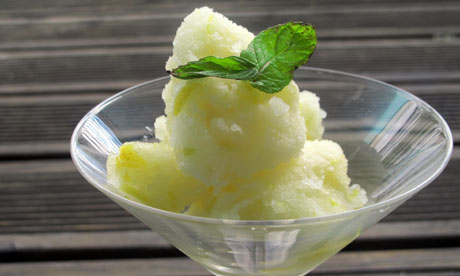 Lemon Sorbet Recipes
PREP 15 mins
COOK 1 day 1 hr
READY IN 1 day 1 hr 15 mins
Ingredients
Original recipe makes 6 servings
1 lemon's peel, finely diced
1 cup water
1/2 cup sugar
1/2 cup lemon juice
1/2 cup carbonated mineral water
6 strips of lemon zest, for garnish
Directions
In a saucepan, stir together the diced lemon peel, 1 cup of water and sugar. Bring to a boil, then reduce heat to medium and simmer for 5 minutes. Remove from the heat, and allow to cool.
In a pitcher or bowl, stir together the lemon syrup with peel, lemon juice and mineral water. Pour into an ice cream maker, and freeze according to the manufacturer's instructions. Garnish each serving with a twist of lemon peel.
If you do not have an ice cream maker, you may freeze it in a tall canister. Freeze for 1 1/2 hours. Remove and stir with a whisk. Return to the freezer and stir about once every hour for about 4 hours. The more times you stir, the more air will be incorporated, resulting in a lighter finished product.