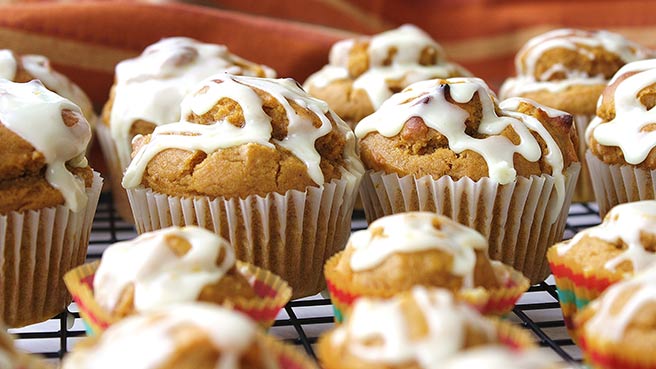 Mini Pumpkin Muffins with Orange Drizzle Recipes
PREP 40 mins
COOK 10 mins
READY IN 50 mins
Ingredients
Original recipe makes 36 muffins
1 (15 ounce) can 100% pure pumpkin
1 1/2 teaspoons ground ginger
1 teaspoon ground cinnamon
1/4 teaspoon ground cloves
1 cup dark brown sugar
1/2 cup vegetable oil
2 large eggs, lightly beaten
2 cups all-purpose flour
2 teaspoons baking powder
1/4 teaspoon baking soda
1/2 teaspoon salt
Orange Drizzle:
1/2 cup confectioners' sugar
1/4 teaspoon finely grated orange zest
4 teaspoons orange juice
Directions
Adjust oven rack to center position and heat oven to 425 degrees. Spray 36 mini-muffin cups with vegetable cooking spray.
Bring pumpkin, ginger, cinnamon and cloves to a simmer in a medium saucepan until puree thickens enough to start sticking to pan bottom, 6 to 8 minutes. Turn hot puree into a bowl. Whisk in brown sugar and oil, then slowly beat in eggs.
Meanwhile, whisk the flour, baking powder, baking soda and salt in a medium bowl; whisk into pumpkin mixture until just combined.
Divide batter among the muffin cups and bake until golden and cooked through, about 10 minutes. Let stand a few minutes, then transfer mini-muffins to a wire rack to cool. Mix the drizzle ingredients together and drizzle over warm muffins.