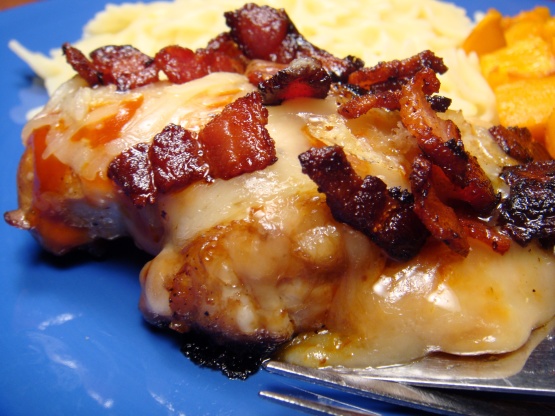 Monterey Chicken Recipes
PREP 45 mins
COOK 15 mins
READY IN 3 hrs
Ingredients
Original recipe makes 4 servings
4 skinless, boneless chicken breast halves
1 cup teriyaki marinade sauce
1/2 pound bacon
2 tablespoons butter
1 small onion, cut into long slices
1 small green bell pepper, cut into thin strips
1 (8 ounce) package fresh mushrooms, coarsely chopped
4 slices mozzarella cheese
Directions
To Marinate: Place chicken in a nonporous glass dish or bowl. Pour marinade over chicken and toss to coat. Cover and refrigerate to marinate for 1 to 2 hours.
Preheat oven to 350 degrees F (175 degrees C).
Place chicken in a 9x13 inch baking dish and bake preheated oven for 20 to 30 minutes, or until cooked through and juices run clear. Meanwhile, place bacon in a large, deep skillet. Cook over medium high heat until evenly brown. Drain and set aside.
In same skillet, melt butter over medium high heat. Saute onion, bell pepper and mushrooms for about 3 to 5 minutes. Add remaining 1/3 cup of marinade and simmer until soft. Drain and set onion mixture aside.
Top baked chicken with bacon strips. Add onion mixture and top each breast with a slice of cheese. Bake for another 10 to 15 minutes, or until cheese is melted and bubbly.