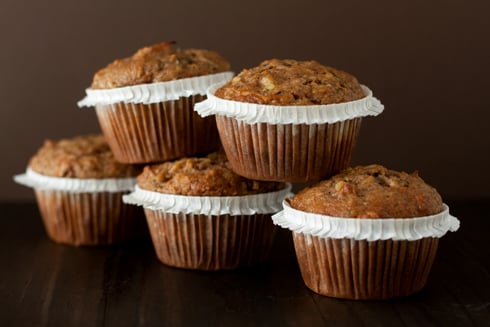 Morning Glory Muffins II Recipes
Ingredients
Original recipe makes 18 muffins
2 cups all-purpose flour
1 1/4 cups white sugar
2 teaspoons baking soda
2 teaspoons ground cinnamon
1/2 teaspoon salt
1 1/2 cups grated carrots
1 1/2 cups peeled and grated apple
3/4 cup flaked coconut
1/2 cup dates, pitted and chopped
1/2 cup chopped pecans
3 eggs, beaten
1/2 cup vegetable oil
1/2 teaspoon vanilla extract






Directions
Preheat oven to 375 degrees F (190 degrees C). Lightly oil 18 muffin cups, or coat with nonstick cooking spray.
In a large mixing bowl, combine flour, sugar, baking soda, cinnamon and salt.
In a second bowl, combine carrots, apples, coconut, dates and pecans. Stir in eggs, oil and vanilla. Add this mixture to the dry ingredients; stir until smooth.
Spoon or scoop the batter into the prepared muffin pans. Bake at 375 degrees F (190 degrees C) for 18 to 20 minutes or until a toothpick inserted into the center of a muffin comes out clean.