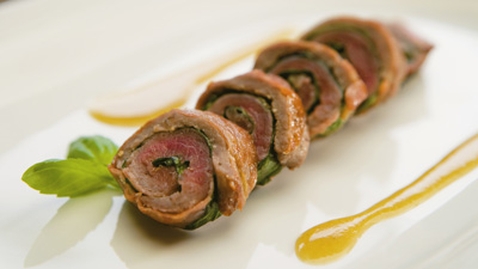 Nikki's Steak Saltimbocca Recipes
PREP 15 mins
COOK 15 mins
READY IN 30 mins
Ingredients
Original recipe makes 6 servings
2 pounds beef skirt steak, trimmed of fat
freshly ground black pepper to taste
6 ounces sliced aged provolone cheese
2 bunches fresh sage leaves
12 slices prosciutto
1/4 cup extra virgin olive oil
Directions
Preheat the oven to 350 degrees F (175 degrees C).
Cut the steak into approximately 4 ounce pieces, then pound each one to 1/4 inch thickness. Season with black pepper. On each piece of steak, lay one slice of provolone cheese, a few leaves of sage and 2 slices of prosciutto. Roll into pinwheels and secure with toothpicks.
Heat the oil in a large skillet over medium-high heat. Quickly brown the pinwheels on the outside. Transfer to a baking dish if your skillet is not oven-safe.
Bake for 7 minutes for medium rare, or 10 for medium. Let rest for 5 minutes before carving into thin pinwheels. Place the skillet back over medium-high heat, and add any remaining sage leaves. Fry until crispy and then use them to garnish steaks.