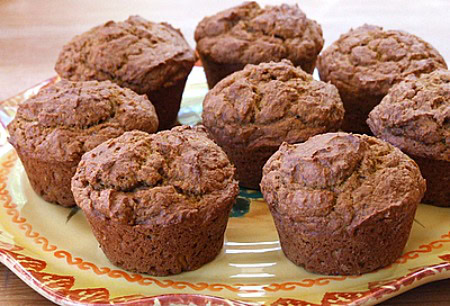 Pumpkin Spice Muffins Recipes
Ingredients
Original recipe makes 18 muffins
2 cups whole wheat flour
2 teaspoons baking powder
1 teaspoon baking soda
2 teaspoons ground cinnamon
2 teaspoons ground nutmeg
2 eggs, beaten
1 cup pumpkin puree
1/4 cup white sugar
2 cups unsweetened applesauce
2 tablespoons vegetable oil
1 teaspoon almond extract
Directions
Preheat the oven to 350 degrees F (175 degrees C). In a medium bowl, mix together flour, baking powder, baking soda, cinnamon and nutmeg; set aside.
In a large bowl, combine eggs, pumpkin, sugar, applesauce, vegetable oil, and almond extract. Slowly add the flour mixture to the large bowl until just blended. Do not over beat. Pour the batter into 18 nonstick muffin cups.
Bake for 25 to 30 minutes. Remove muffins from the oven, and let cool slightly. Remove the muffins from the pan, and let cool completely.