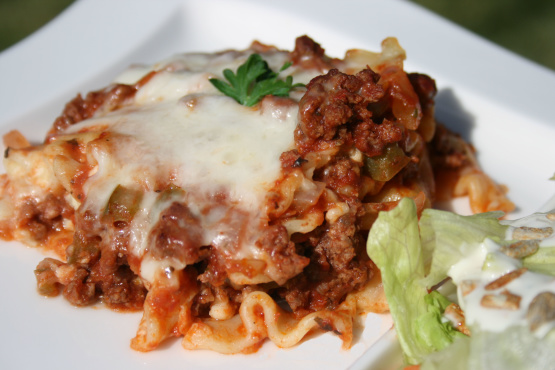 Restaurant Style Lasagna Recipes
PREP 20 mins
COOK 40 mins
READY IN 1 hr 10 mins
Ingredients
Original recipe makes 8 servings
9 lasagna noodles
2 1/2 cups ricotta cheese
1 1/2 cups mozzarella cheese, shredded
1/4 cup grated Parmesan cheese
2 eggs, beaten
1/2 pound lean ground beef
2 1/2 teaspoons dried oregano
1 1/2 teaspoons dried basil
1/2 teaspoon garlic powder
2 teaspoons white sugar
salt and pepper to taste
3 (6.5 ounce) cans tomato sauce
Directions
Bring a large pot of lightly salted water to a boil. Add lasagna noodles and cook for 8 to 10 minutes or until al dente; drain.
Preheat oven to 350 degrees F (175 degrees C).
To make filling- Combine in a bowl: ricotta cheese, mozzarella, parmesan and eggs.
To make sauce- In a skillet, brown the ground beef until cooked through; drain grease. Combine in skillet, browned ground beef, oregano, basil, garlic powder, sugar, salt, pepper and tomato sauce. Heat through and stir.
In a 9x13 inch pan, alternate layers of cooked lasagna noodles, sauce, and filling, making 3 layers total. If desired, top with more mozzarella cheese. Bake for 40 minutes. Let stand 10 minutes before cutting.