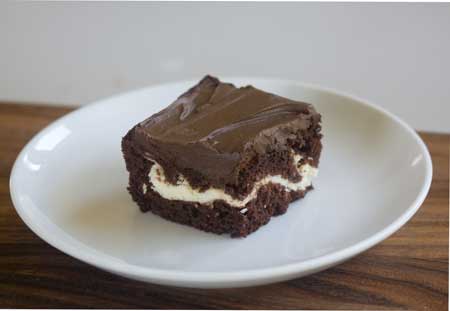 Ribboned Fudge Cake Recipes
PREP 30 mins
COOK 1 hr
READY IN 1 hr 30 mins
Ingredients
Original recipe makes 1 - 10 inch Bundt pan
1 (18.25 ounce) package chocolate cake mix
1 (8 ounce) package cream cheese, softened
2 tablespoons butter, softened
1 tablespoon cornstarch
1 (14 ounce) can sweetened condensed milk
1 egg
1 teaspoon vanilla extract
Directions
Preheat oven to 350 degrees F (175 degrees C). Grease and flour a 10 inch Bundt pan.
Prepare cake according to directions on package. Pour into Bundt pan.
In a medium bowl, beat together cream cheese, butter (or margarine) and cornstarch until fluffy. Gradually beat in sweetened condensed milk, egg and vanilla until smooth.
Pour cream cheese mixture evenly over cake batter.
Bake at 350 degrees F (175 degrees C) for 50 to 55 minutes. Cool for 10 minutes in the pan, then turn out onto a wire rack and cool completely. Glaze with Chocolate Glaze, or as desired.