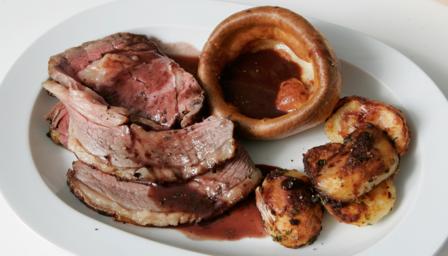 Roast Beef and Yorkshire Pudding Recipes
PREP 30 mins
COOK 1 hr 30 mins
READY IN 2 hrs
Ingredients
Original recipe makes 4 servings
2 pounds rump roast
garlic powder to taste
salt to taste
freshly ground pepper, to taste
1/4 teaspoon salt
1 cup all-purpose flour
2 eggs, beaten
1 cup milk
Directions
Preheat oven to 375 degrees F (190 degrees C).
Wash roast and sprinkle with garlic powder, salt and pepper. Insert a meat thermometer into the thickest part of the roast, making sure it doesn't touch any bone or fat.
Bake on a wire rack inside of a large roasting pan in the preheated oven for 90 minutes, or to desired doneness. For medium-rare, the meat thermometer should read 135 degrees F (57 degrees C). Remove roast from pan, reserving drippings.
In a small mixing bowl, beat the two eggs until frothy. In another small bowl, mix the salt and flour. Stir the beaten eggs into the flour. Stirring constantly, gradually pour in the milk.
Preheat oven to 400 degrees F (200 degrees C).
Pour the reserved pan drippings into a medium muffin tin. Place in the preheated oven for 3 minutes. Remove from heat and pour the egg, flour and milk mixture into the hot drippings. Return muffin tin to the oven and bake for 20 minutes, or until fluffy and golden brown.