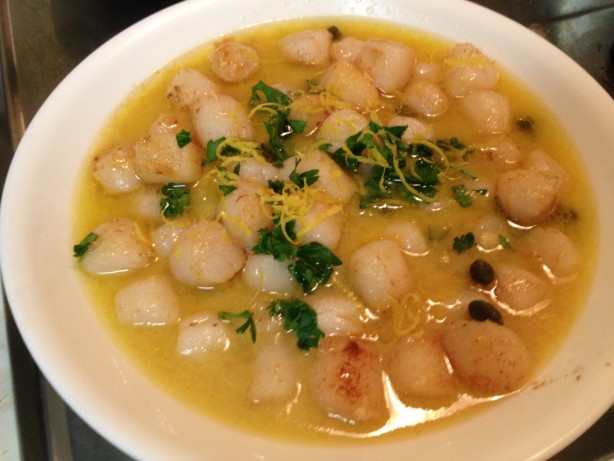 Scallop Scampi Recipes
PREP15 mins
COOK30 mins
READY IN45 mins
Ingredients
Original recipe makes 8 servings
4 tablespoons margarine
3 cloves garlic, minced
1 large onion, minced
1/2 cup dry white wine
1 teaspoon salt
1/4 teaspoon ground black pepper
1/2 cup grated Romano cheese
1 (10.75 ounce) can chicken broth
1 pound bay scallops
1 pound linguine pasta
1/4 cup chopped fresh parsley
Directions
In a large skillet, melt margarine over medium heat and saute garlic and onion until translucent. Add wine, salt, ground black pepper and 1/4 cup cheese.
Add chicken broth and scallops; increase heat and boil rapidly for 7 to 8 minutes.
Meanwhile, bring a large pot of lightly salted water to a boil. Add pasta and cook for 8 to 10 minutes or until al dente; drain.
Reduce heat for scallop mixture and add parsley; place sauce on top of linguine. Sprinkle with remaining cheese; serve.