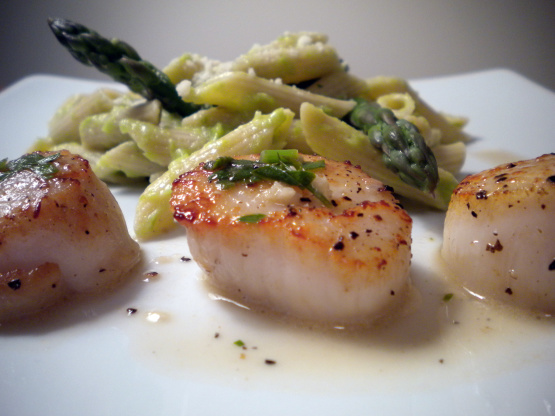 Scallops with White Wine Sauce II Recipes
PREP15 mins
COOK15 mins
READY IN30 mins
Ingredients
Original recipe makes 4 servings
1/2 cup chicken broth
1/4 cup white wine
1/2 lemon, juiced
1 tablespoon minced shallot
1 clove garlic, minced
1/4 cup butter
1 pound sea scallops
1 tablespoon olive oil
salt and pepper to taste
Directions
Preheat the oven broiler.
In a skillet over medium heat, mix the chicken broth, wine, lemon juice, shallot, and garlic. Cook and stir until most of the liquid has been reduced. Stir in the butter until melted.
Brush the scallops with olive oil, and season with salt and pepper. Arrange on a baking sheet.
Broil the scallops in the preheated oven about 2 minutes on each side, or until opaque. Serve with the wine sauce.