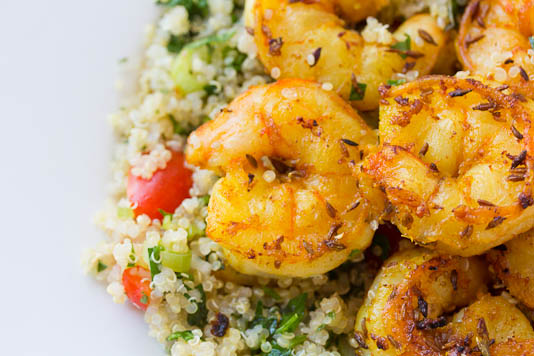 Shrimp and Quinoa Recipes
PREP 15 mins
COOK 40 mins
READY IN 55 mins
Ingredients
Original recipe makes 4 servings
1 1/2 cups water
1 cup uncooked quinoa
2 tablespoons olive oil
1 red onion, chopped
1/2 green bell pepper, chopped
1/2 cup sliced fresh mushrooms
6 fresh asparagus spears, trimmed and chopped
1/4 cup golden raisins
1 tablespoon minced fresh ginger root
salt and pepper to taste
1 pound medium shrimp - peeled and deveined
1 lime, juiced
2 tablespoons olive oil
1/2 cup chopped Italian flat leaf parsley
Directions
In a large pot, bring the water to a boil, and stir in the quinoa. Cover, reduce heat to low, and simmer 15 minutes. Remove from heat, and set aside 10 minutes, or until all liquid has been absorbed.
Heat 2 tablespoons olive oil in a skillet over medium heat, and saute the onion and green bell pepper until tender. Mix in the mushrooms, asparagus, raisins, and ginger, and continue cooking until asparagus is tender. Season with salt and pepper. Mix in the shrimp, and cook 5 minutes, or until opaque.
In a large bowl, mix the quinoa with the lime juice and remaining 2 tablespoons olive oil. Toss with the skillet mixture and parsley to serve.