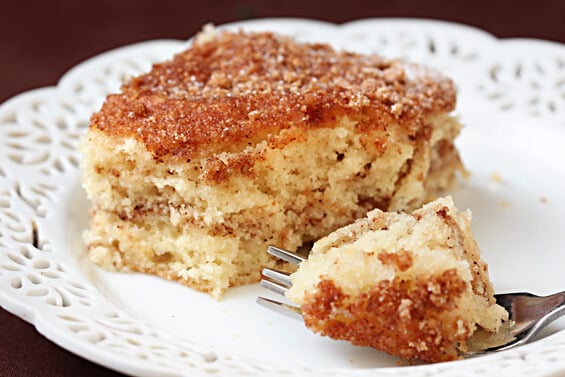 Sour Cream Coffee Cake I Recipes
Ingredients
Original recipe makes 1 bundt cake
1/2 cup butter
2 cups all-purpose flour
1 cup white sugar
1/2 cup packed brown sugar
2 eggs
1 teaspoon baking powder
1 teaspoon baking soda
1 cup sour cream
1 teaspoon vanilla extract
1 teaspoon ground cinnamon
1/4 cup brown sugar
4 tablespoons milk
1 cup confectioners' sugar
1/4 ounce candy sprinkles (optional)
Directions
In a large bowl, blend together butter or margarine, white sugar, 1/2 cup brown sugar, sour cream, eggs, and vanilla. Add to these ingredients the flour, baking powder, and soda. Blend until smooth.
To Make Filling: Combine cinnamon and 1/4 cup brown sugar.
Grease and flour a large Bundt pan. Pour 1/2 of the batter into the prepared pan. Sprinkle the cinnamon sugar mix on top of the batter in the pan, and cover with the remaining batter.
Bake at 350 degrees F (175 degrees C) for 45 to 50 minutes. Cool.
Make a thick glaze by mixing together confectioners' sugar with 2 to 3 tablespoons milk until smooth. Pour over cooled cake, and add sprinkles if desired.