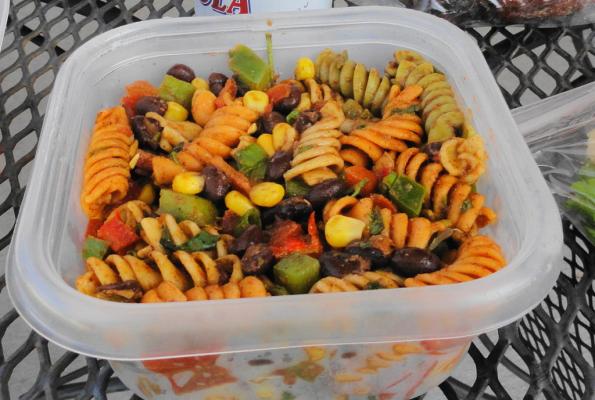 Southwestern Vegetarian Pasta Recipes
PREP 10 mins
COOK 20 mins
READY IN 30 mins
Ingredients
Original recipe makes 6 servings
1 tablespoon vegetable oil
1 onion, chopped
1/2 green bell pepper, diced
2 cloves garlic, chopped
2 tablespoons chili powder
1 teaspoon ground cumin
1 (28 ounce) can diced tomatoes with juice
1 (15 ounce) can chickpeas
1 (10 ounce) package frozen corn kernels, thawed
1 (12 ounce) package uncooked elbow macaroni
1/2 cup shredded Monterey Jack cheese
Directions
Heat oil in a large, deep skillet. Saute onion, green pepper, garlic, chili powder and cumin. Stir in tomatoes, chickpeas and corn. Reduce heat to low and simmer 15 to 20 minutes, or until thickened and heated through.
Meanwhile, bring a large pot of lightly salted water to a boil. Add macaroni and cook for 8 to 10 minutes or until al dente; drain.
Combine pasta and sauce. Sprinkle each serving with Monterey Jack cheese.