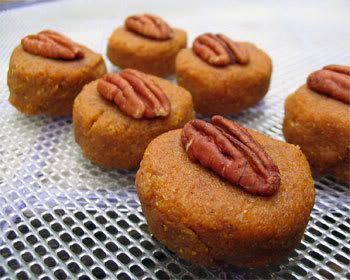 Spiced Butternut Squash Muffins Recipes
PREP 35 mins
COOK 20 mins
READY IN 1 hr 10 mins
Ingredients
Original recipe makes 12 muffins
1/2 pound peeled, seeded and cubed butternut squash
1 1/2 cups all-purpose flour
2 teaspoons baking powder
1/2 cup white sugar
1/4 teaspoon salt
2 teaspoons pumpkin pie spice
3/4 cup milk
1 egg, beaten
1 tablespoon butter, melted
Directions
Preheat oven to 400 degrees F (200 degrees C). Lightly grease a 12 cup muffin pan.
In a medium saucepan with enough water to cover, boil squash 20 minutes, or until tender. Remove from heat, drain, and puree in a food processor.
In a large bowl, whisk together flour, baking powder, white sugar, salt and pumpkin pie spice.
In a medium bowl, thoroughly mix together milk, egg and butter. Stir in squash. Fold the squash mixture into the flour mixture just until moistened.
Spoon the batter into the prepared muffin pan, filling cups about 1/2 full. Bake 20 minutes in the preheated oven, or until a toothpick inserted in the center of a muffin comes out clean. Remove from muffin pan and cool on a wire rack.