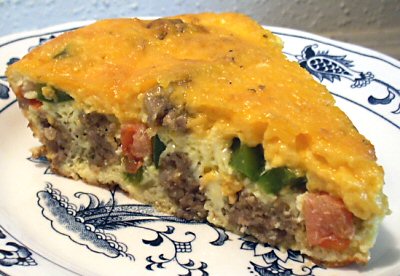 Spicy Sausage Quiche Recipes
PREP 25 mins
COOK 25 mins
READY IN 1 hr
Ingredients
Original recipe makes 8 servings
1 pound bulk pork sausage
1 cup shredded Cheddar cheese
1 cup shredded Monterey Jack cheese
1/2 cup chopped onion
1 (4 ounce) can chopped green chile peppers
1 tablespoon minced jalapeno pepper
10 eggs, lightly beaten
1 teaspoon chili powder
1 teaspoon ground cumin
1/2 teaspoon garlic powder
1 teaspoon salt
1/2 teaspoon pepper
Directions
Preheat oven to 375 degrees F (190 degrees C). Lightly grease a 9x13 inch baking dish.
Place sausage in a large, deep skillet. Cook over medium-high heat until evenly brown. Drain and crumble. Spread into bottom of baking dish. Sprinkle with Cheddar cheese, Monterey Jack cheese, onion, chile peppers, and jalapeno pepper. In a medium bowl, mix eggs with chili powder, cumin, garlic powder, salt and pepper. Pour over contents of baking dish.
Bake in preheated oven for 18 to 22 minutes, or until a knife inserted into the center comes out clean. Cool for 10 minutes, then cut into squares.