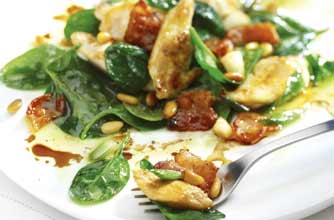 Spinach and Bacon Chicken Recipes
Ingredients
Original recipe makes 4 servings
7 slices bacon
4 skinless, boneless chicken breast halves - cut into strips
2 cups all-purpose flour for coating
1 cup white wine
1 bunch fresh spinach, washed, stems removed
1 cup heavy whipping cream
Directions
In large skillet, fry bacon until cooked to your liking; Remove bacon strips from skillet (leave bacon fat in skillet for frying chicken breasts) and place on paper towels to dry.
Dredge/coat chicken breasts in flour, then brown in the same skillet, in the bacon fat, until somewhat crispy on each side.
Remove chicken from skillet and place on paper towels. Pour out remaining bacon fat and pour in the cup (or more, if you like) of wine. Add the amount of spinach you want to have, cover the skillet and simmer over medium low heat until spinach is wilted.
Add the cream and chicken breasts to the skillet and mix with the spinach. Crumble bacon slices into bits and add to the chicken/spinach mixture. Cover skillet and simmer for about 5 minutes.