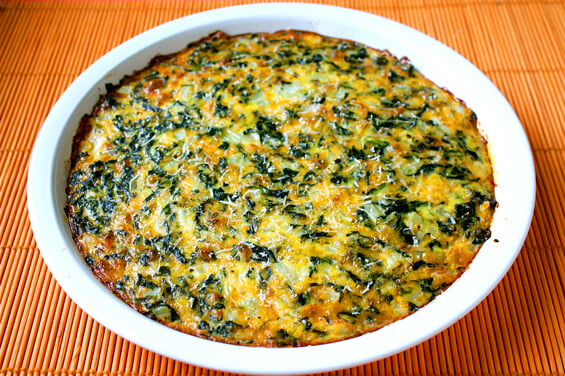 Spinach Muenster Quiche Recipes
PREP 10 mins
COOK 35 mins
READY IN 45 mins
Ingredients
Original recipe makes 8 servings
8 ounces Muenster cheese, sliced
2 (10 ounce) packages frozen chopped spinach, thawed and drained
2 eggs
1/3 cup grated Parmesan cheese
1 (8 ounce) package cream cheese, softened
salt and pepper to taste
garlic powder to taste
4 ounces Muenster cheese, sliced
Directions
Preheat oven to 350 degrees F (175 degrees C).
Line a quiche dish or 9 inch pie pan with the 8 ounces of Muenster cheese slices. Carefully press all of the water out of the spinach and place it in a large mixing bowl. Add eggs, Parmesan cheese, cream cheese, salt, pepper and garlic powder; stir well. Spoon mixture into pan and top with remaining cheese slices.
Bake in preheated oven for 35 minutes and allow to set up for 10 minutes before serving. Decrease oven temperature by 25 degrees F if using glass pie dish.