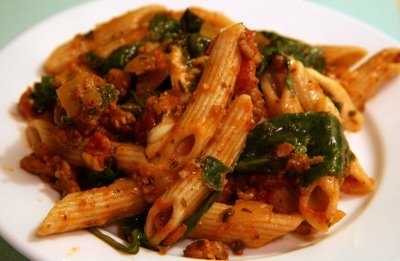 Spinach Ziti Recipes
Ingredients
Original recipe makes 6 servings
8 ounces ziti pasta
1 (14.5 ounce) can Italian-style stewed tomatoes
1/8 teaspoon crushed red pepper flakes
4 ounces fresh spinach, washed and chopped
2 ounces cream cheese
1/4 teaspoon ground nutmeg
Directions
Bring a large pot filled with salted water to a boil. Add ziti and cook until tender but still firm, about 12 minutes.
Meanwhile, in a medium sized non-reactive pan, combine tomatoes and hot pepper flakes. Warm over medium-low heat, breaking up tomatoes if necessary.
Drain pasta and return to hot pan. Add spinach, cream cheese and nutmeg. Cook, stirring, over low heat until spinach wilts, 1-2 minutes. Pour tomato sauce over spinach ziti. Stir and toss gently to mix.