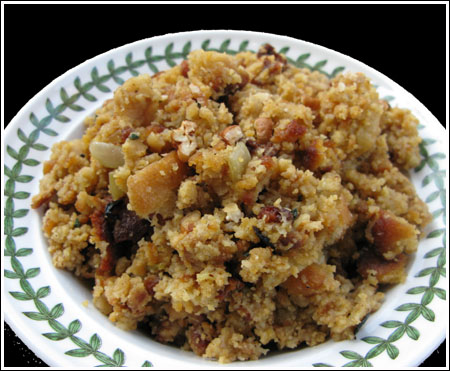 Stuffing for Slow Cooker Recipes
Ingredients
Original recipe makes 10 to 12 servings
1 cup butter
2 cups chopped celery
2 cups chopped onion
1/4 cup chopped parsley
2 (8 ounce) cans mushrooms, drained
12 cups white bread, cut into cubes
1 teaspoon poultry seasoning
1 teaspoon dried thyme
1 1/2 teaspoons sage
1/2 teaspoon ground black pepper
1 1/2 teaspoons salt
1/2 teaspoon dried marjoram (optional)
2 eggs, beaten
4 cups chicken broth
Directions
In a large skillet over medium heat, melt the butter. Saute the celery, onion, parsley and mushrooms until onions are soft.
In a large bowl, combine the bread cubes and vegetables. Add the poultry seasoning, thyme, sage, pepper, salt and marjoram. Toss together well. Add egg and enough broth to moisten.
Lightly pack into slow cooker; cover and cook on high for 45 minutes. Reduce to low and cook for 4 to 8 hours.