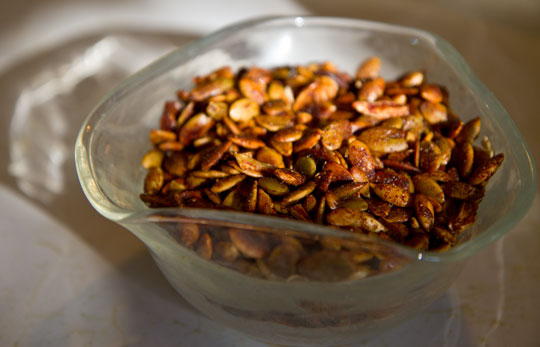 Sweet and Spicy Pumpkin Seeds Recipes
PREP 10 mins
COOK 45 mins
READY IN 55 mins
Ingredients
Original recipe makes 2 cups
2 cups pumpkin seeds, rinsed and dried
2 tablespoons butter, melted
1 teaspoon salt
1 tablespoon Worcestershire sauce
1 tablespoon brown sugar
2 drops hot pepper sauce
Directions
Preheat oven to 300 degrees F (150 degrees C). Line a baking pan with aluminum foil.
Stir together the pumpkin seeds and butter in a bowl. Add the salt, Worcestershire sauce, brown sugar, and hot pepper sauce; stir. Spread the seeds in a single layer on the baking pan.
Bake in preheated oven until crispy, about 45 minutes.