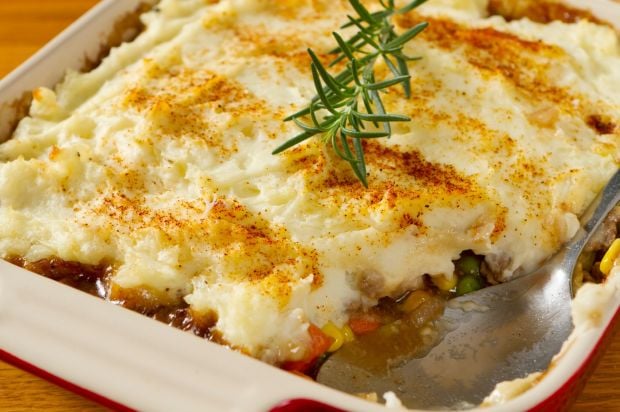 Thanksgiving Leftover Casserole Recipes
PREP 20 mins
COOK 55 mins
READY IN 1 hr 15 mins
Ingredients
Original recipe makes 8 servings
3 tablespoons butter
2 tablespoons all-purpose flour
1 (12 fluid ounce) can evaporated milk
1 cup water
1/4 teaspoon salt
1/4 teaspoon freshly ground black pepper
1/4 teaspoon onion powder
2 tablespoons butter
1 cup finely crushed herb-seasoned dry bread stuffing mix
1 cup cooked, diced turkey meat
1 cup shredded Cheddar cheese
2 cups leftover mashed potatoes
Directions
Preheat oven to 350 degrees F (175 degrees C). Lightly grease a 9x13 inch baking dish.
Melt 3 tablespoons butter in a saucepan over low heat. Blend in the flour. Slowly stir in evaporated milk and water, then season with salt, pepper, and onion powder. Stir sauce over low heat for 5 minutes.
In a separate saucepan over low heat, melt 2 tablespoons butter. Blend in the dry stuffing mix. Place the turkey in the prepared baking dish. Pour the sauce over turkey, then sprinkle with Cheddar cheese. Spread mashed potatoes over cheese. Top mashed potatoes with the stuffing mixture.
Bake 45 minutes in the preheated oven.