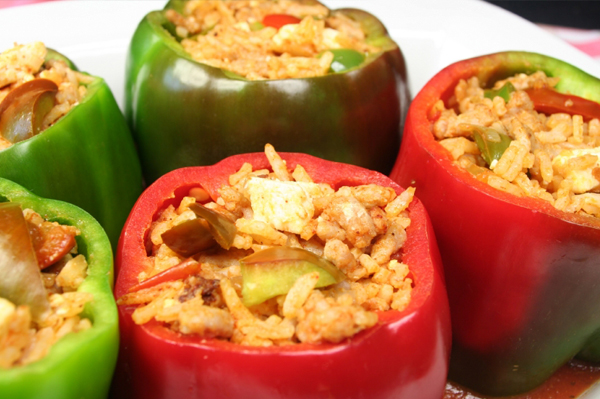 Vegetarian Stuffed Peppers Recipes
PREP 10 mins
COOK 1 hr 10 mins
READY IN 1 hr 20 mins
Ingredients
Original recipe makes 6 servings
1 1/2 cups brown rice
6 large green bell peppers
3 tablespoons soy sauce
3 tablespoons cooking sherry
1 teaspoon vegetarian Worcestershire sauce
1 1/2 cups extra firm tofu
1/2 cup sweetened dried cranberries
1/4 cup chopped pecans
1/2 cup grated Parmesan cheese
salt and pepper to taste
2 cups tomato sauce
2 tablespoons brown sugar
Directions
Preheat oven to 350 degrees F (175 degrees C). In a saucepan bring 3 cups water to a boil. Stir in rice. Reduce heat, cover and simmer for 40 minutes.
Meanwhile, core and seed green peppers, leaving bottoms intact. Place peppers in a microwavable dish with about 1/2 inch of water in the bottom. Microwave on high for 6 minutes.
In a small frying pan bring soy sauce, wine and Worcestershire sauce to a simmer. Add tofu and simmer until the liquid is absorbed. Combine rice (after it has cooled), tofu, cranberries, nuts, cheese, salt and pepper; mix and pack firmly into peppers. Return peppers to the dish you first microwaved them in, and bake in preheated oven for 25 to 30 minutes, or until lightly browned on top.
Meanwhile, in a small saucepan over low heat, combine tomato sauce and brown sugar; heat until hot throughout. Spoon sauce over each serving.