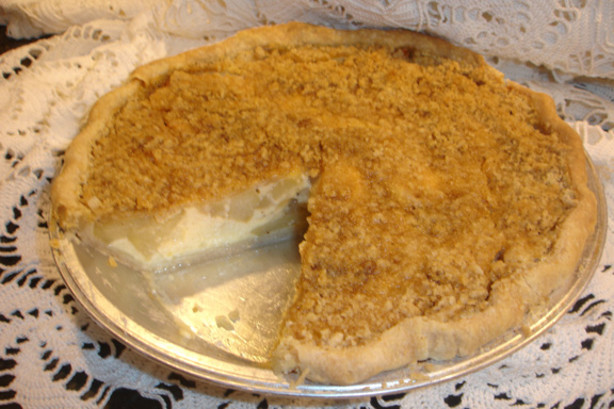 Warm Apple Buttermilk Custard Pie Recipes
Ingredients
Original recipe makes 1 pie
1 (9 inch) pie shell
1/4 cup butter
2 tart apples - peeled, cored and sliced
1/2 cup white sugar
1/2 teaspoon ground cinnamon
1/4 cup butter, softened
1 1/3 cups white sugar
4 eggs
1 teaspoon vanilla extract
2 tablespoons all-purpose flour
3/4 cup buttermilk
1/4 cup white sugar
1/4 cup packed brown sugar
1/2 cup all-purpose flour
1/4 teaspoon ground cinnamon
3 tablespoons butter
Directions
Preheat oven to 300 degrees F (150 degrees C).
To Make Apple Filling: Melt 1/4 cup butter or margarine in skillet over medium heat. Add apple, 1/2 cup white sugar, and 1/2 teaspoon cinnamon. Cook 3 to 5 minutes, until tender. Set aside.
To Make Buttermilk Custard: In a large mixing bowl combine 1/4 cup softened butter or margarine with 1 1/3 cups white sugar. Beat until creamy. Add eggs one at a time, beating until yellow disappears. Mix in vanilla, then 2 tablespoons flour. Combine thoroughly, then pour in buttermilk, beating until smooth.
Fit pastry into pie pan and prick with a fork. Spoon apple mixture into crust, then pour buttermilk custard over it.
Place in preheated oven and bake for 30 minutes.
To Make Streusel Topping: While pie is baking, combine 1/4 cup white sugar, brown sugar, 1/2 cup flour, and 1/4 teaspoon cinnamon in a small bowl. Cut in 3 tablespoons butter or margarine until mixture is crumbly.
Remove pie from oven after 30 minutes and sprinkle streusel topping over custard. Return to oven and bake for an additional 40 to 50 minutes, until a knife inserted in center comes out clean. Let stand 1 hour before serving.