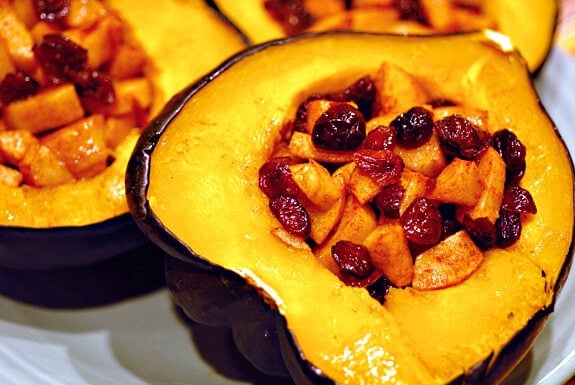 Apple-Stuffed Acorn Squash Recipes
PREP 35 mins
COOK 55 mins
READY IN 1 hr 30 mins
Ingredients
Original recipe makes 6 squash halves
3 acorn squash, halved and seeded
2 tablespoons stick margarine
1 cup chopped onions
3 cups peeled, seeded, and chopped Granny Smith apples
1/2 cup golden raisins
2 tablespoons light brown sugar
1 teaspoon ground cinnamon
1 1/2 cups shredded Cheddar cheese
Directions
Preheat an oven to 350 degrees F (175 degrees C). Place the squash onto a baking sheet cut side down. Fill the baking sheet with 1/2 inch of water.
Bake the squash in the preheated oven for 40 minutes. Drain off any water remaining in the baking sheet.
While the squash is baking, melt the margarine in a large skillet over medium heat. Cook the onion and apple in the margarine until the onion has softened and turned translucent, 10 to 15 minutes. Scrape the mixture into a bowl to cool until the squash has finished baking.
Once the squash is done, stir the raisins, brown sugar, cinnamon, and Cheddar cheese into the apple mixture. Turn the squash cut side up on the baking sheet and fill with the apple mixture. Return the squash to the oven; bake until the filling is hot and the cheese has melted, about 15 minutes.