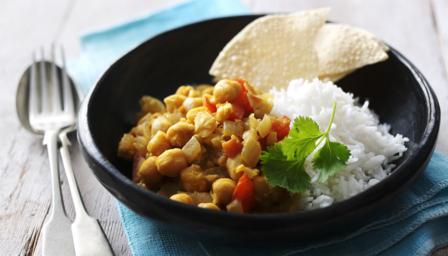 Delicious Chickpea Curry Recipes
PREP 45 mins
COOK 1 hr 15 mins
READY IN 2 hrs
Ingredients
Original recipe makes 6 servings
4 cups water
2 cubes vegetable bouillon
1 cup raisins
1/4 cup olive oil
2 onions, chopped
1 tablespoon minced garlic
2 tablespoons minced ginger
2 cinnamon sticks
6 whole cloves
1 teaspoon cayenne pepper
1 teaspoon ground turmeric
1 teaspoon ground coriander
1 teaspoon ground cumin
2 (19 ounce) cans garbanzo beans (chickpeas)
1 medium yam, peeled and diced
1 pear, peeled and cubed
salt to taste
1 cup chopped fresh cilantro
Directions
Place water, bouillon cubes, and raisins in a saucepan over high heat. Bring to a boil, and simmer until bouillon cubes dissolve.
Meanwhile, heat olive oil in a large saucepan over medium heat. Add onion, garlic, and ginger; cook and stir until the onion has softened and turned translucent, about 5 minutes. Add cinnamon sticks, cloves, cayenne, turmeric, coriander, and cumin; cook for about 3 minutes until fragrant, stirring constantly.
Stir garbanzo beans, yams, and pear into onions; pour in hot vegetable stock and raisins. Bring to a simmer, then reduce heat to medium-low, cover, and simmer until the vegetables have softened and the sauce has thickened, about 1 hour.
Season to taste with salt and stir in chopped cilantro before serving.