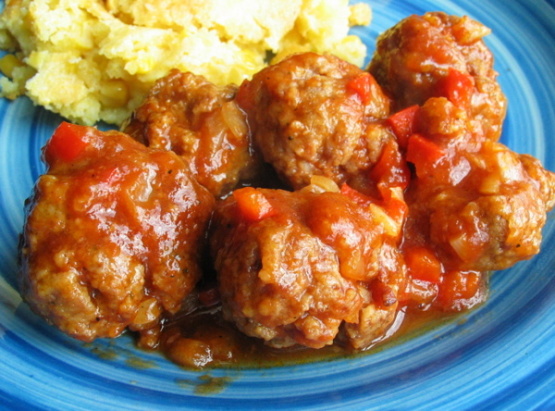 BBQ Cola Meatballs Recipes
PREP 15 mins
COOK 3 hrs 45 mins
READY IN 4 hrs
Ingredients
Original recipe makes 36 appetizer meatballs
1 1/2 pounds lean ground beef
1 1/4 cups dry bread crumbs
1 egg
3 tablespoons grated onion
1 (1 ounce) package dry Ranch-style dressing mix
1 cup ketchup
2 tablespoons apple cider vinegar
3/4 cup cola-flavored carbonated beverage
1/2 cup chopped onion
1/2 cup chopped green bell pepper
1 teaspoon seasoning salt
1/2 teaspoon ground black pepper
1 tablespoon Worcestershire sauce
Directions
Preheat the oven to 375 degrees F (190 degrees C).
In a large bowl, mix together the ground beef, bread crumbs, egg, grated onion and Ranch dressing mix until well blended. Shape into 1 inch meatballs, and place on a 10x15 inch jellyroll pan, or any baking sheet with sides to catch the grease.
Bake for 30 minutes in the preheated oven, turning them over half way through. While the meatballs are roasting, mix together the ketchup, cider vinegar, cola, chopped onion and green pepper in a slow cooker. Season with seasoning salt, pepper, and Worcestershire sauce.
Remove meatballs from the baking sheet, and place into the sauce in the slow cooker. Cover and cook on Low for 3 hours, then remove the lid and cook for an additional 15 minutes before serving.