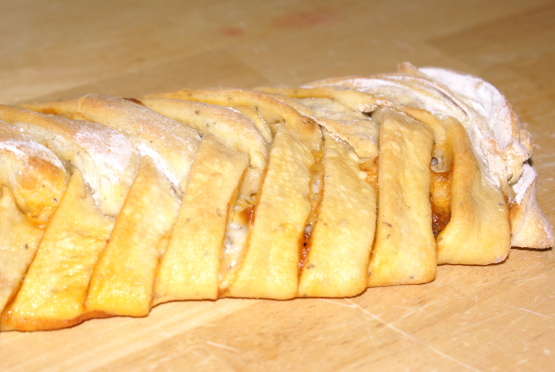 Bread Machine Calzone Recipes
PREP 30 mins
COOK 50 mins
READY IN 1 hr 20 mins
Ingredients
Original recipe makes 1 calzone
1 1/4 cups water
2 teaspoons active dry yeast
1 1/2 tablespoons white sugar
3 cups bread flour
1 teaspoon salt
1 teaspoon powdered milk
3/4 cup sliced Italian sausage
3/4 cup pizza sauce
1 1/4 cups shredded mozzarella cheese
2 tablespoons butter, melted
Directions
To Make Dough: Place water, yeast, sugar, flour, salt and powdered milk in the pan of the bread machine, in the order suggested by the manufacturer. Select Dough cycle. After cycle is completed, roll out dough on a lightly floured surface.
Meanwhile, brown sausage for about 8 to 10 minutes in a large skillet over medium heat. Drain excess fat and reserve.
Preheat oven to 350 degrees F (175 degrees C).
Shape dough into a 16 inch by 10 inch rectangle. Transfer to a lightly greased cookie sheet, and spoon pizza sauce lengthwise down the center of the dough, followed by the browned sausage and the cheese. Make diagonal cuts 1 1/2 inches apart down each long side of the dough rectangle, cutting to within 1/2 inch of the filling. Criss-cross cut strips of dough over the filling and seal edges with water. Brush top of calzone with melted butter.
Bake at 350 degrees F (175 degrees C) for 35 to 45 minutes, or until golden brown. Remove from oven and cool for 5 minutes, then slice and serve.